Population Status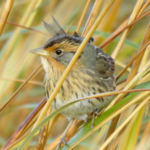 Saltmarsh Sparrow is the only species endemic to the ACJV – found nowhere else on earth – and has been declining at an alarming rate. An estimated 80% of the population has disappeared in just the last 15 years.  At the observed rate of decline of 9% per year, the population has presumably shrunk from ~50,000 individuals (in 2011/2012) to fewer than 30,000 currently. When you compare that population to a species like the Song Sparrow which has a population estimate of 1.3 million birds found in the same area, you can understand why there is cause for alarm. In fact, scientists suggest that the population could collapse within 50 years unless something is done to stabilize the downward spiral.
Threats
Saltmarsh Sparrows nest in high marsh grasses just above the mean high tide line. They have naturally adapted to occasional flooding events; eggs can survive short periods of inundation and young birds often climb to safety in the grass above the nest. However, more than a foot of sea-level rise in some parts of their range has caused nests to flood more frequently and by higher water, overwhelming these highly adaptive traits. Nest flooding is the greatest threat to their nest success followed by depredation of eggs and young.
Check out this very cool PBS video clip on saltmarsh birds and how they manage living in a tidal system. The New York Times also wrote about the "Saltmarsh Sparrow's Fight to Keep Their Heads Above Water".
Population Objective
The ACJV has adopted a long-term population objective of sustaining 25,000 breeding birds. Saltmarsh Sparrow is declining rapidly and the population likely will slip below this level  – possibly to as low as 10,000 birds – before we can stabilize its population and reverse this trend. Achieving our goal will require a coordinated effort across the breeding range to 1) enhance and restore existing salt marsh and 2) protect and create new marsh in adjacent migration areas. If successful, this work will benefit the full suite of tidal marsh specialist birds.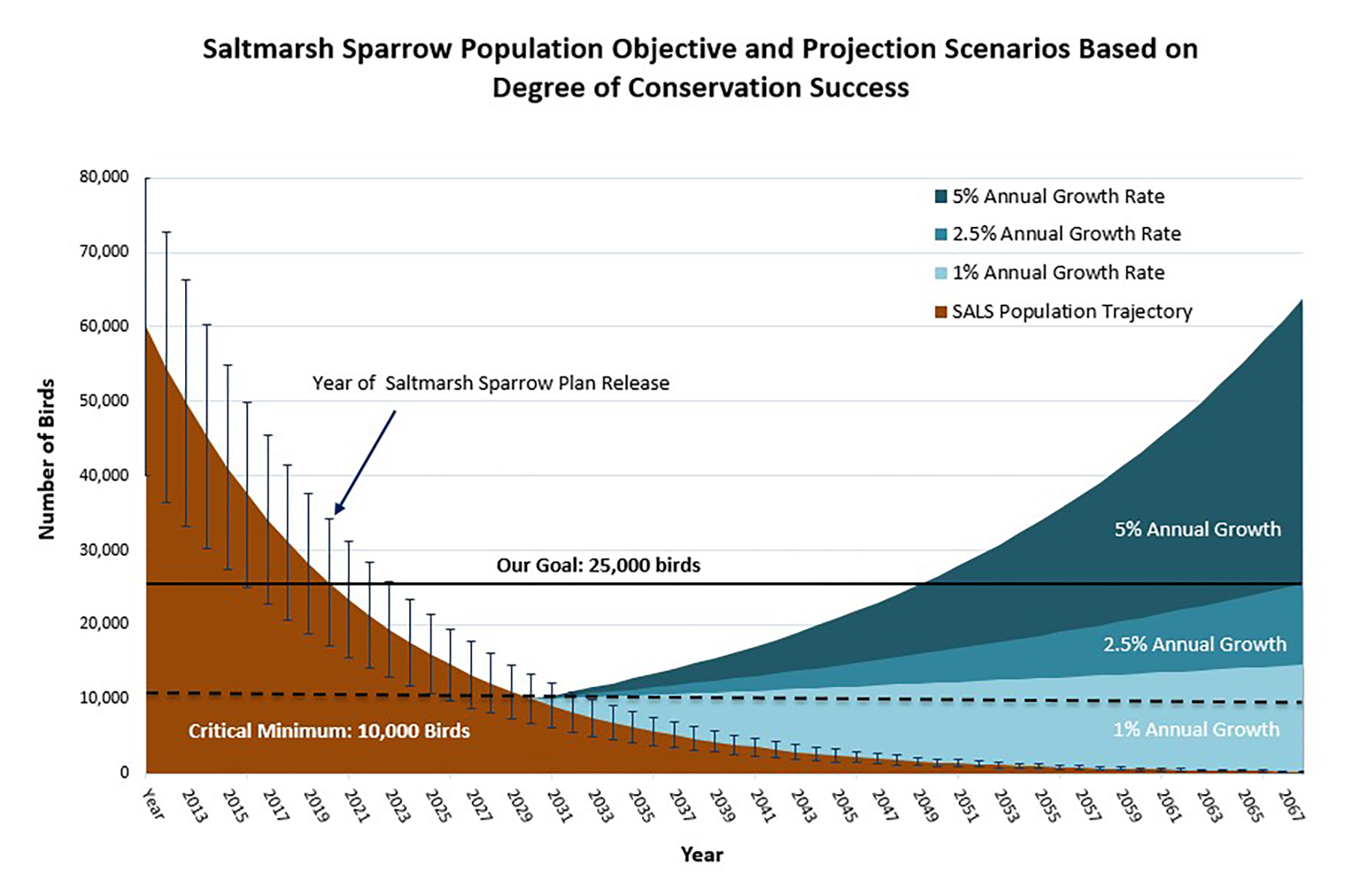 Achieving Our Objective
Partners estimate that the existing protected lands in the breeding range of the Saltmarsh Sparrow supported about 21,000 individual birds in 2012. However, most of those sites do not provide "high quality" habitat that supports a stable or growing population. To halt the steep population decline of Saltmarsh Sparrow and recover their population to 25,000 birds we need to:
restore and enhance existing salt marsh patches to provide high-quality nesting habitat on at least 84,000 acres of salt marsh
protect adjacent, inland areas that buffer existing salt marsh patches and provide corridors to allow marsh migration in the future, as sea level rises
A shifting mosaic of high quality habitat must be available at any given time to support the 25,000 bird goal. These sites will vary over time as some acres are lost to sea level rise while others are gained through marsh migration. To be successful, we must both improve habitat quality on many current breeding sites and protect and manage marsh migration corridors to provide future salt marsh habitat.
The Saltmarsh Sparrow Habitat Prioritization Tool identifies which salt marsh patches are most likely to be valuable in terms of resilience to sea level rise, and other factors (e.g., degree of tidal restriction, development potential, Phragmites, potential for marsh migration) that are important for Saltmarsh Sparrow habitat.
The tool does not identify specific acres on which to work within prioritized patches nor where to apply specific management practices. Combined with the high marsh and protected areas layers, the tool provides a launching off point to help direct work to high priority marshes. Work on the ground should be informed by local knowledge about marsh condition and resiliency needs.