Coastal Marsh Conservation in the ACJV
The Atlantic Coast Joint Venture (ACJV) area includes the 16 states in the Atlantic Flyway of the United States as well as the Commonwealth of Puerto Rico. Spanning 207 million acres, the Atlantic Flyway is the most densely populated region in the U.S. supporting over 99 million people – about 35% of the total U.S. population (U.S. Census Bureau, 2000).
With our wide variety of ecosystems–from mangrove swamps to boreal forest–our Joint Venture partners recognized that we need to be strategic if we want to move the needle on conservation at this scale.
Tidal marsh birds are facing a crisis that is playing out in nearly every state in the Atlantic Coast Joint Venture. Sea-level rise, urbanization and other human impacts have degraded this narrow band of coastal habitat, pushing many bird populations into steep decline. Recognizing the urgent need and our shared responsibility for salt marsh habitat conservation, the ACJV Management Board approved a strategic focus on salt marsh and adopted three "flagship species" upon which to direct collective conservation attention:  Saltmarsh Sparrow, Black Rail, and American Black Duck. These species represent the full coastal geography of our region and the breadth of marsh habitats that are needed to support a suite of tidal marsh-dependent species.
The ACJV has set measurable population objectives for each of these species and is developing habitat objectives to support them. Our partners are using these objectives to develop models and decision support tools for American Black Duck and Saltmarsh Sparrow to guide new habitat delivery efforts to benefit these species.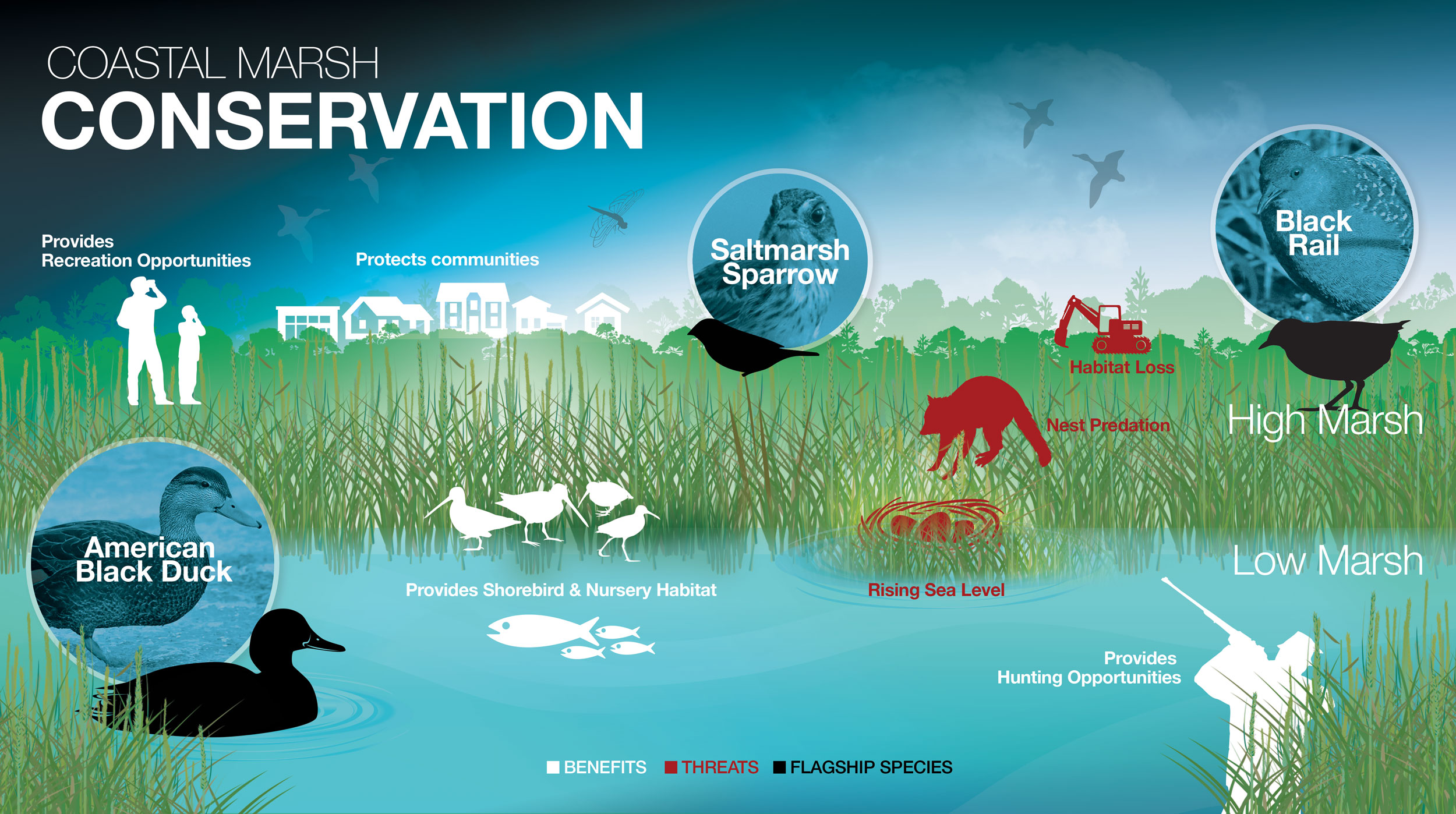 A Healthier Future for Birds and People
Coastal marshes provide much more than just bird habitat. This ecosystem is the foundation for a healthy coastal environment for wildlife and people alike. Marshes are an insurance policy that protects our coastal real-estate from flooding, provides clean water, and supports multi-billion dollar fishery and tourism industries. Investing in our marshes is good for wildlife and good for people.
Read all about the Crisis at the Edge of the Tide: The Decline of Saltmarsh Birds on the Atlantic Coast by Aimee Weldon and Mitch Hartley, published in the Fall 2018 Issue from The Wildlife Society.