Habitat and Species in the ACJV
The Atlantic Coast Joint Venture area comprises the 16 states in the Atlantic Flyway of the United States as well as the Commonwealth of Puerto Rico. This joint venture includes a total area of 207 million acres (324,097 square miles) representing about 11% of the total land area of the continental United States. It is the most densely populated region in the U.S. with over 99 million people living in the area – about 35% of the total U.S. population (U.S. Census Bureau, 2000).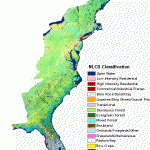 There is a tremendous diversity of ecosystems and habitats in the joint venture including: boreal forests, mixed conifer forests, estuarine, brackish, and salt water marshes, mangroves, freshwater wetlands, bottomland hardwood forests, coastal dunes beaches, and shrub lands, piedmont, open field, young forests and grasslands. The variety of habitats in the joint venture supports a high abundance and diversity of bird species including 37 native species of waterfowl, 40 species of shorebirds, 88 species of waterbirds (including pelagic species) and about 200 landbird species.
Conservation, Restoration, and Protection
Protecting habitats and species throughout the ACJV happens through on-the-ground actions by our partners. Habitat conservation is guided by the biological planning document that identifies species and habitats at greatest risk, population and habitat objectives at multiple scales and utilizes a landscape approach to target highest priority habitat patches in landscapes, watersheds and ecoregions.
Conservation Projects
The partners of the Atlantic Coast Joint Venture have conserved significant acreages of wetland, wetland-associated and other important habitat for migratory birds from the inception of the joint venture in 1988 through the end of 2008. The following tables summarize these accomplishments by state and year. For those states that joined the joint venture after 1988, the accomplishments were only compiled since the date that state joined. These accomplishments represent acres protected, restored or enhanced in the joint venture area through the following funding sources or partner programs: North American Wetland Conservation Act grants, National Coastal Wetland Conservation Act grants, National Wildlife Refuge acquisitions, National Forest habitat conservation, Partners for Fish and Wildlife habitat restoration, Ducks Unlimited habitat conservation, The Nature Conservancy habitat conservation, State Fish and Wildlife agency projects, and Atlantic Coast Joint Venture funded projects. Although many of these projects were completed in Atlantic Coast Joint Venture Focus Areas, the total acres represent projects completed throughout the entirety of the Atlantic Coast Joint Venture area.