This past year was productive for ACJV staff and partners. We are excited to share with you our accomplishments from 2018.
Salt Marsh Bird Conservation Business Plan for the Atlantic Coast
At a 2014 Partners in Flight meeting in Virginia Beach, a group of bird conservation partners from the Atlantic and Gulf coast began to develop a conservation business plan for tidal marsh birds. That planning process identified a suite of highest-priority bird species, which included Saltmarsh Sparrow and Black Rail. Led by the researchers involved in the Saltmarsh Habitat Avian Research Program (SHARP), a draft business plan was partially completed by 2015. Read the full story!
Impoundment and High Marsh Mapping Projects Will Help Identify New Black Rail Habitat Opportunities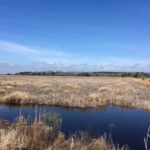 Black Rails require specific habitat conditions that include very shallow water and dense vegetation. These conditions are found in the highest and driest portion of the salt marsh and in a variety of non-tidal wetlands, including managed impoundments. Knowing where to focus Black Rail conservation is the first step toward implementing actions on the ground. The ACJV worked with partners to initiate two major mapping projects in 2018; impoundment mapping in the South Atlantic and high marsh mapping in Florida. Read more!
ACJV Workshop Charts a Path Forward for Black Rails
In late October, partners from across the Joint Venture convened in Charleston, South Carolina, to begin developing the first components of the ACJV Black Rail Conservation Action Plan. The Plan will lay out a series of high-priority actions needed to stabilize and reverse Black Rail population declines in the Joint Venture region. Find out more about the workshop.
Black Rail Pilot Projects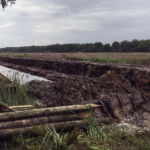 Hiding deep in the marsh, inaccessible to even the most dedicated birders and researchers, Black Rails have kept much of their ecology a secret for centuries. Now the species is facing alarming declines and solutions are urgently needed to stabilize the population. Given how little is known about the species and their habitat, the ACJV Black Rail Working Group determined that the most efficient path forward is to develop and test an array of pilot-scale management projects throughout the ACJV and evaluate them through the lens of an Adaptive Management Framework. Read more about the pilot projects!
Black Rail Adaptive Management Project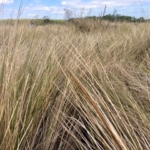 The ACJV, in partnership with USGS, recently secured a 3-year grant  to develop an Adaptive Management (AM) Framework for Black Rail. This project was born out of the urgent need to learn quickly about which management strategies work better than others at creating suitable habitat for Black Rail. Through the AM project, biologists, land managers and Black Rail experts will develop a decision support tool to predict performance of a suite of highest- priority management actions, evaluated across the ACJV region. Read on!
Eastern Black Rail Listing Update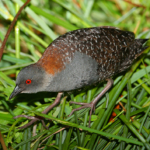 In October, the U.S. Fish and Wildlife Service (Service) announced their proposal to list the Eastern Black Rail subspecies as threatened under the Endangered Species Act (ESA). After a review of the best available information, the Service determined the subspecies meets the definition of threatened because it is likely to become endangered in the foreseeable future throughout all, or a significant portion of its range. Population estimates for the entire Atlantic Coast Joint Venture area range from just 355-815 breeding pairs. Read more.
Habitat Tool Prioritizes Saltmarsh Sparrow Habitat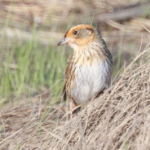 The ACJV has adopted a long-term population objective of sustaining 25,000 breeding Saltmarsh Sparrows. To achieve this objective, we must first identify where the highest-priority habitat exists to support the population. To this end, the Saltmarsh Sparrow Working Group has developed a Habitat Prioritization Tool  to identify the most important marsh patches for Saltmarsh Sparrows. Check out more about the tool.
Black Duck Decision Support Tool Helps Target Conservation Action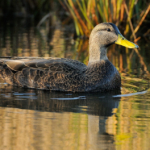 The American Black Duck was once the most abundant dabbling duck in eastern North America. Black duck populations began declining steadily in the 1950s and reached an all-time low by the 1980s, having lost more than half of their historical population. Populations have stabilized since then, although they are still below the objectives set by the North American Waterfowl Management Plan. Find out more about the Black Duck Decision Support Tool.
National Fish and Wildlife Foundation Includes Black Duck Priorities in Chesapeake Bay Strategic Plan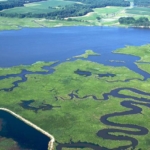 The National Fish and Wildlife Foundation (NFWF) partnered with the ACJV to identify restoration and enhancement priorities in the Chesapeake Bay watershed that meet both water quality and American Black Duck habitat goals. Through the Black Duck Decision Support Tool, the ACJV identified small watersheds that meet both goals. Read more.
NAWCA Grants in the ACJV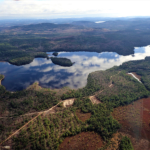 Atlantic Coast Joint Venture partners involved in the North American Wetlands Conservation Act (NAWCA) grants program had a very successful year in 2018. Eleven Standard grant projects were awarded $1 million dollars each in six states: Maine, Virginia, North Carolina, South Carolina, Georgia, and Florida. These eleven projects conserved nearly 92,000 acres of wetland and buffering uplands, permanently protecting more than 80,000 acres and restoring or enhancing 11,460 acres (most of that restoration acreage is in Florida's eastern Everglades). In addition, seven Small Grants were awarded (~$600,000K) in five states (Maine, Massachusetts, Maryland, New Jersey, and Pennsylvania), which will protect nearly 800 acres and restore 350 acres. The $11.6M in grant funds were matched by nearly $31M in partner contributions. Read more about these amazing projects.
We've Been in the News!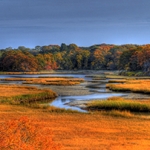 Read the articles about our flagship efforts here.